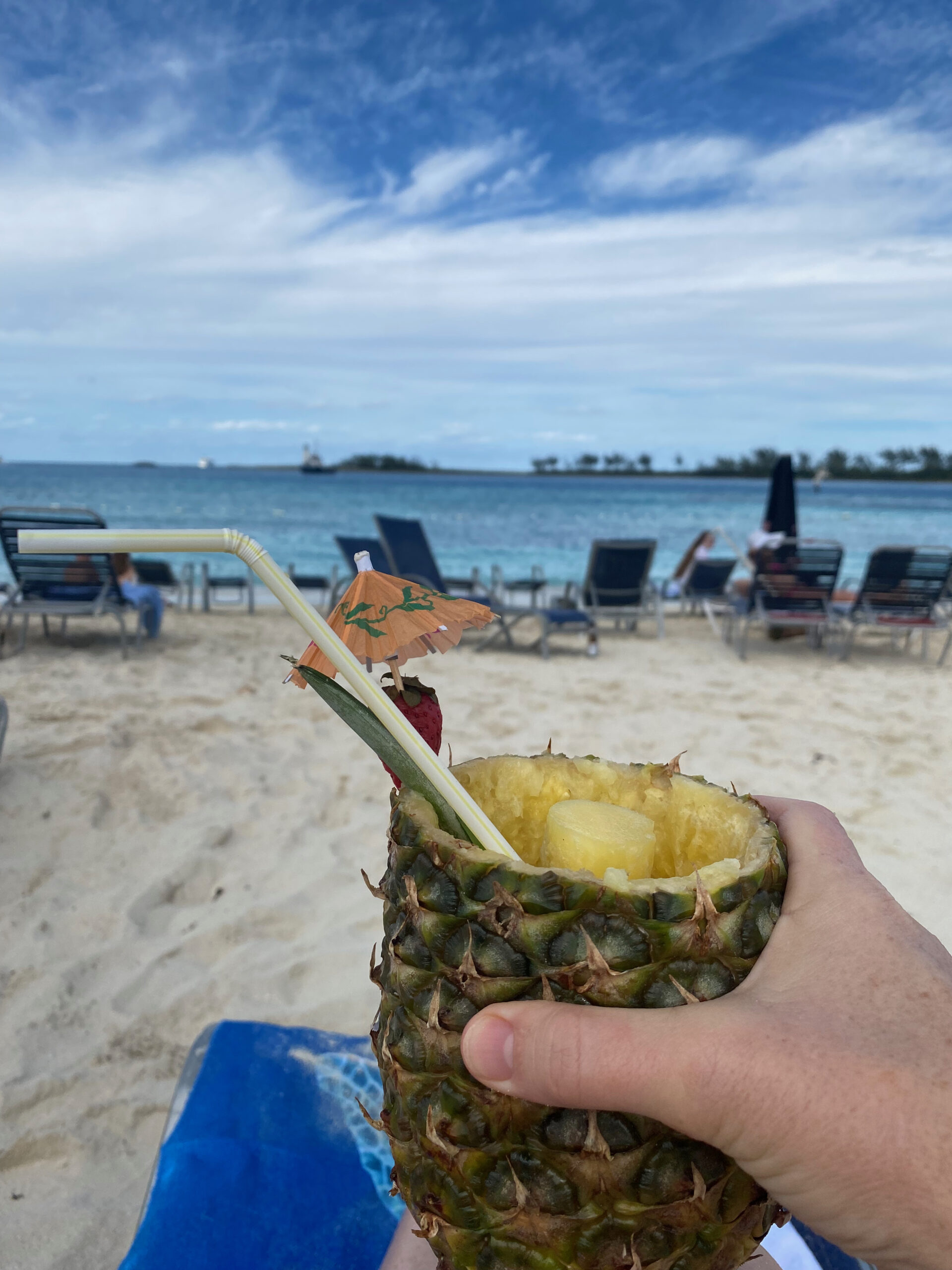 Views: 3
Read Time:
7 Minute, 30 Second
So I had no clue where we were going on the cruise, therefore I knew less than zero about the places where we docked. The schedule changed so many times that I couldn't keep track. After about five minutes I had another drink and stopped trying.
I had a plan. The Tina Plan. Just get off the boat and go walkabout. As the only Aussie on the ship, this was the kind of behaviour that was expected. So let me run you through Tina's Caribbean Vacation. It goes like this.
Port 1
Nassau, The Bahamas.
The ship docked at the port at some ungodly hour. I wandered off at about 8am, fighting my way through the "shore excursion" queues, to the cruise terminal exit. Looked left and right for signs of life. Nothing. Luckily I had used one of my million-dollar-minutes of boat internet before I got off the ship to look at Google Maps, searching for anything resembling sand.
I walked through the pleasant yet deserted streets of Nassau. I considered shopping but alas nothing opened till 10am. Three minutes later I arrived at the previously mentioned sand. It looked like nice sand. And there was Antony, my future husband, to provide me with a banana lounge and a constant supply of drinks served in a pineapple.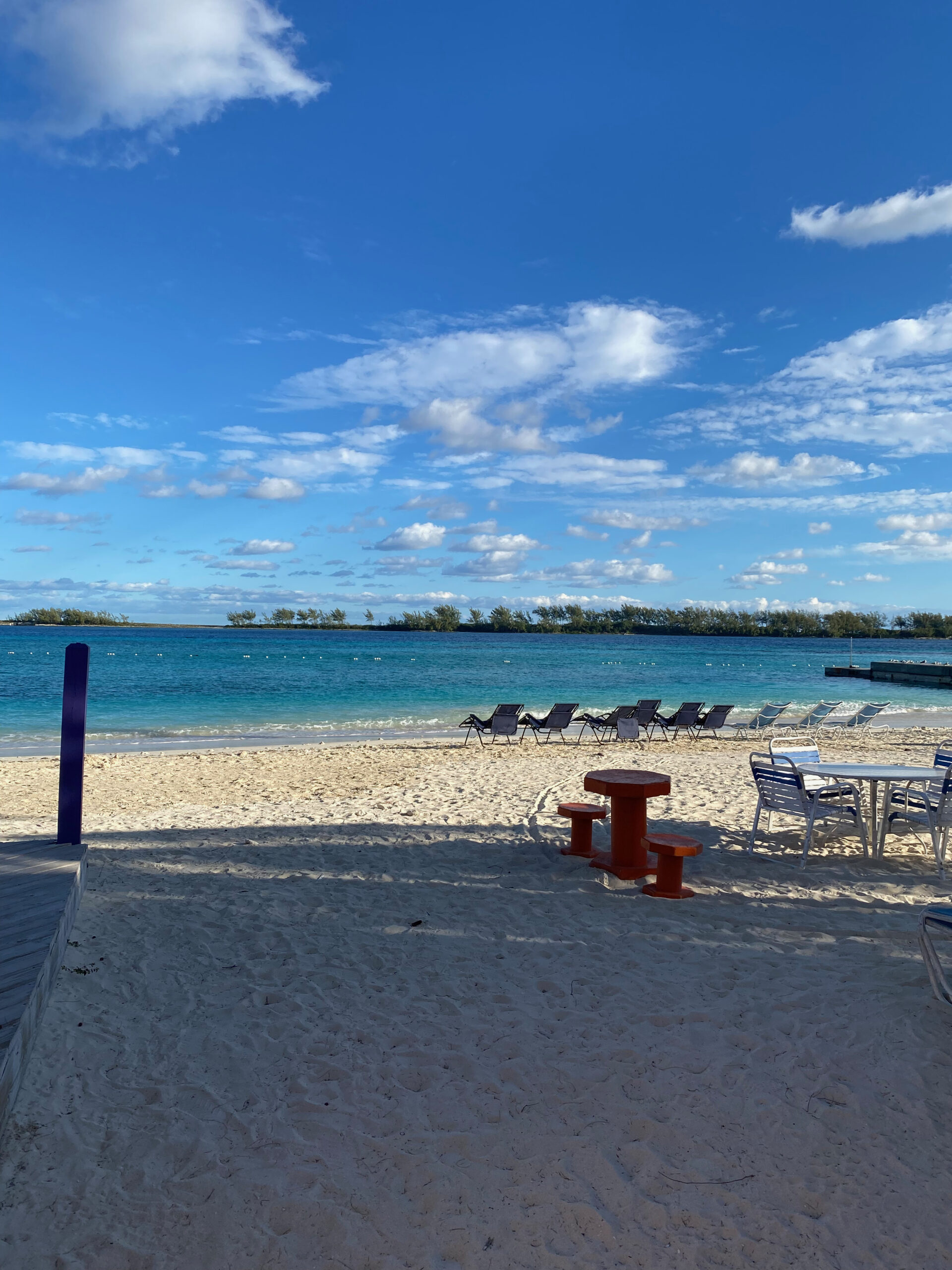 Antony, a Jamaican living in The Bahamas, proceeded to sit next to me for the next three hours and then escort me back to the cruise ship. I realised three days later he had called me 147 times. Oops, don't give out your real number, people.
This beach was beautiful, the water sparkling and the massages outstanding. The bad thing about cruising, however, is that after you have been in town for five minutes you're back on the boat. Farewell Bahamas. What I saw, I loved.
Port 2
Philipsburg, St Maarten
There is a lot of colonial history in the Caribbean. I won't go in to it here, as this is supposed to be light and entertaining, but will only comment that you can tell which specific colonials were here by the side of the road they drive on. In The Bahamas it was on the left, but in St Maarten, the right. In actual fact, this stunning island is Dutch on one side and French on the other.
Philipsburg is on the Dutch side. I did my thing again – got off the boat, walked into town and plonked myself down on the beach. This beach was even nicer than The Bahamas and the people even more fun.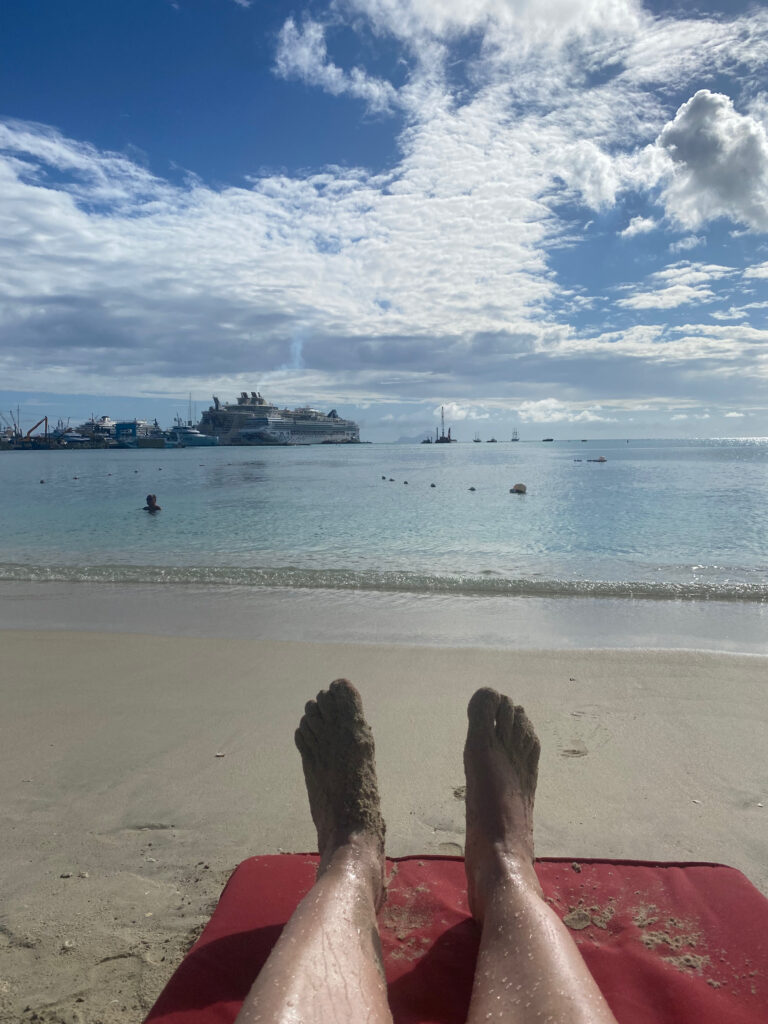 This was our longest day off the ship – from 1pm till 9.30pm, so I intended to make the most of it. I enjoyed the beach till 5pm, when Joseph said it was time to get off the banana lounge and go and sit at the bar. As you know I always do what I'm told as long as I agree with it, so off I went. The Dirty Sanchez Crew Bar was run by a great lady called Ruthie. As usual I met lots of fun people, including some Italians, another Jamaican husband called Sam and a mother and daughter from the Netherlands.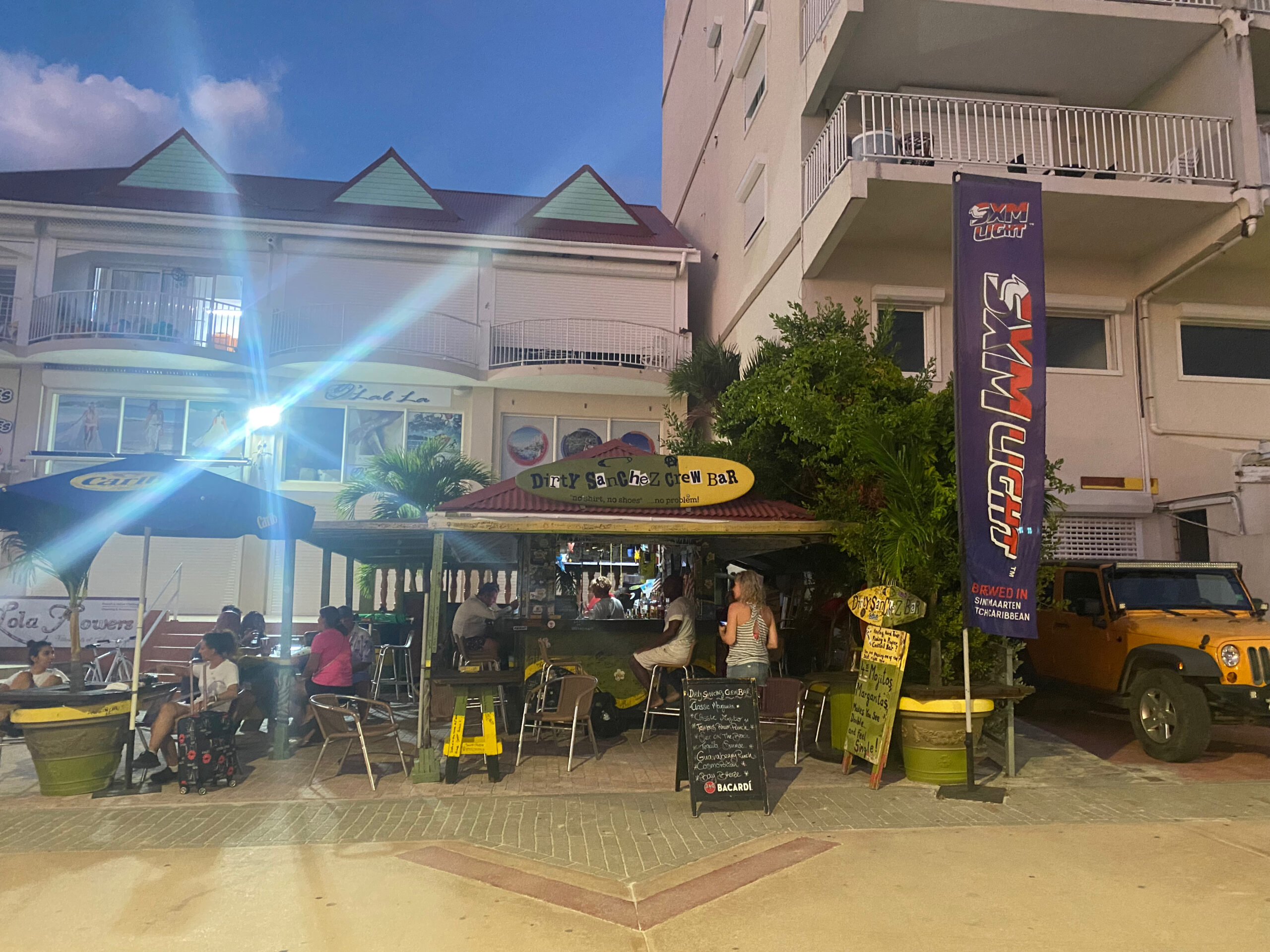 I'm not the type to talk about the Universe and all that, but it is 110% true that if you are open to new experiences, you meet the best people. Karen and Elke were kindred spirits – people who were kind, fun and genuine. So we did what we do best – we closed that bar down and moved on to another one.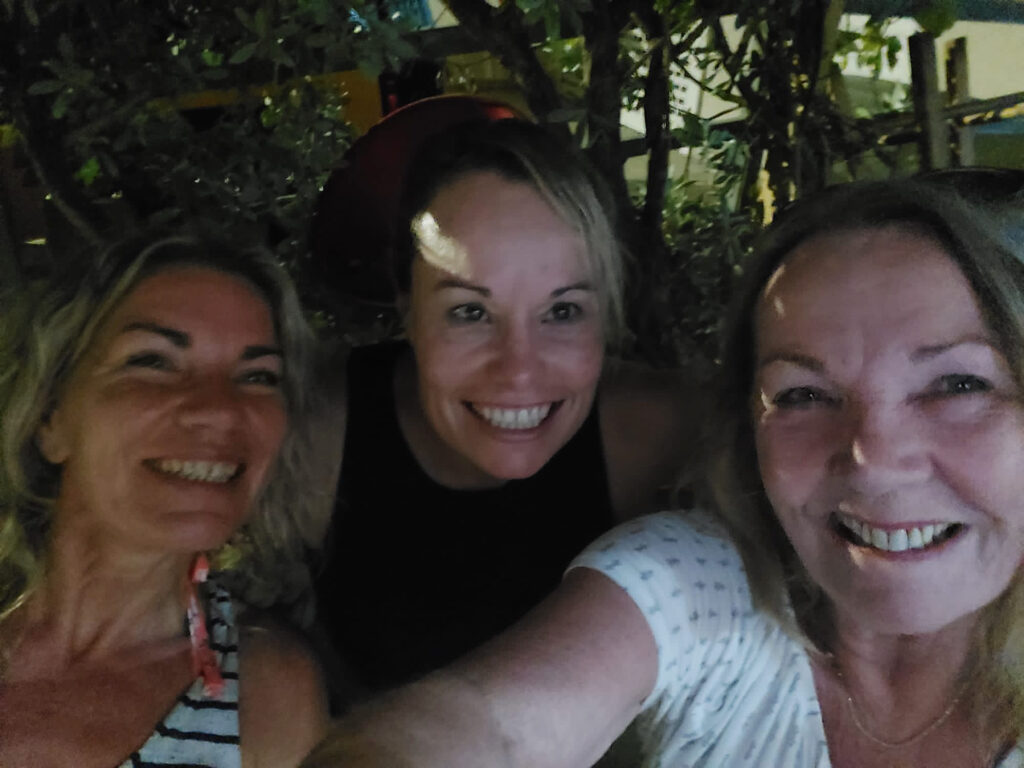 The bar at the Holland House Beach Hotel was very upmarket. We spent another hour there becoming best friends, before we all looked at our watches and realised Tina might be left behind. A cab was summoned, plans were made to meet again in Amsterdam and I was back at the ship by 9.15.
To me, that was early. I had 15 minutes to spare. I wondered why all the crew had gathered round. "Oh Miss Christine, you are number 1." They showed me on the computer. "Cool" I said. "Of course I'm number 1. I'm the only Aussie on the boat."
"We mean you are the last one back on the boat." They literally pulled up the gangplank behind me and then we were out of there.
Day 3
Road Town, Tortola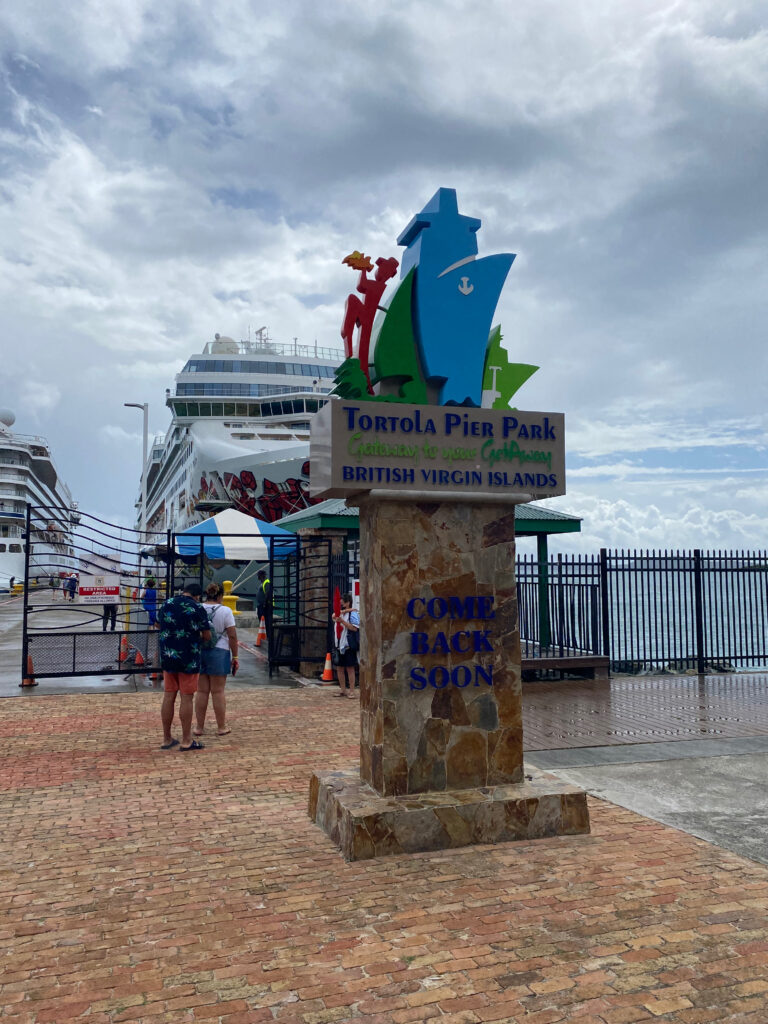 Of course you, like me, you have probably never heard of this place. My cursory glance at Google Maps had not shown anything that resembled sand. I considered a shore excursion for about three seconds. But it is a bit too much like EFF (Enforced Family Fun). Too many rules for Tina. So I wandered off once again into the unknown.
Road Town is pretty much that – just roads. I do love a road sign, so I was thrilled to see the Tsunami Sign. I'm going to check if we have that one in our traffic software, Road Manager. (Shameless ad for my business. Please sign up for a free trial.)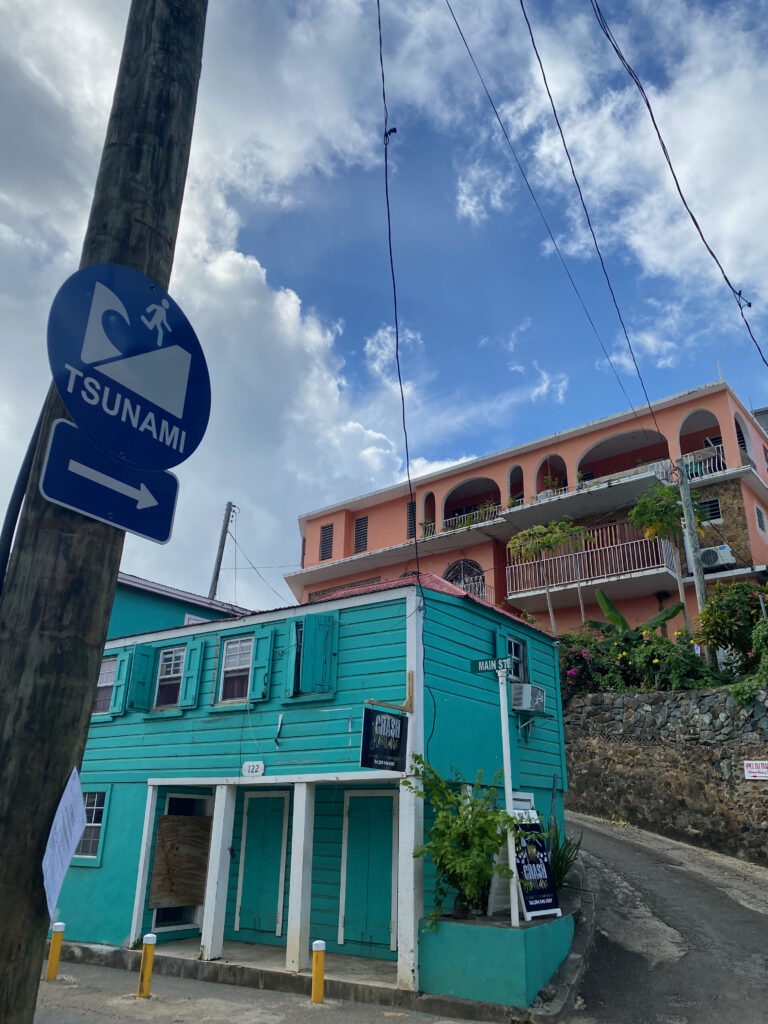 I walked for a while, realised I didn't actually know where the Town part of Road Town was and headed back towards the ship. But I don't like to go the same way twice so I took some back roads, filled with local businesses, zero footpaths and very narrow streets. I came across an art gallery and café that looked promising. I ordered a flat white and sat down to use the free wifi.
There were a few people in there, including an American gentleman called Hugh who was obviously preparing for a business meeting. We got to chatting, as you do, and it turned out that he went to boarding school in Bathurst, which is a country town in Australia. It is also where I lived for three years while at University. Six degrees of separation is a real thing.
Hugh and his friend Khoy were meeting to discuss the charity they are both involved in, that helps homeless young men in the British Virgin Islands. (Yes, that is the point at which I finally worked out where I was – the British Virgin Islands.)
I was having such a great time chatting to these lovely people, that when Richard Branson walked in and sat down next to me, I just said: "Oh that's Richard Branson. Now what were you saying, Hugh?"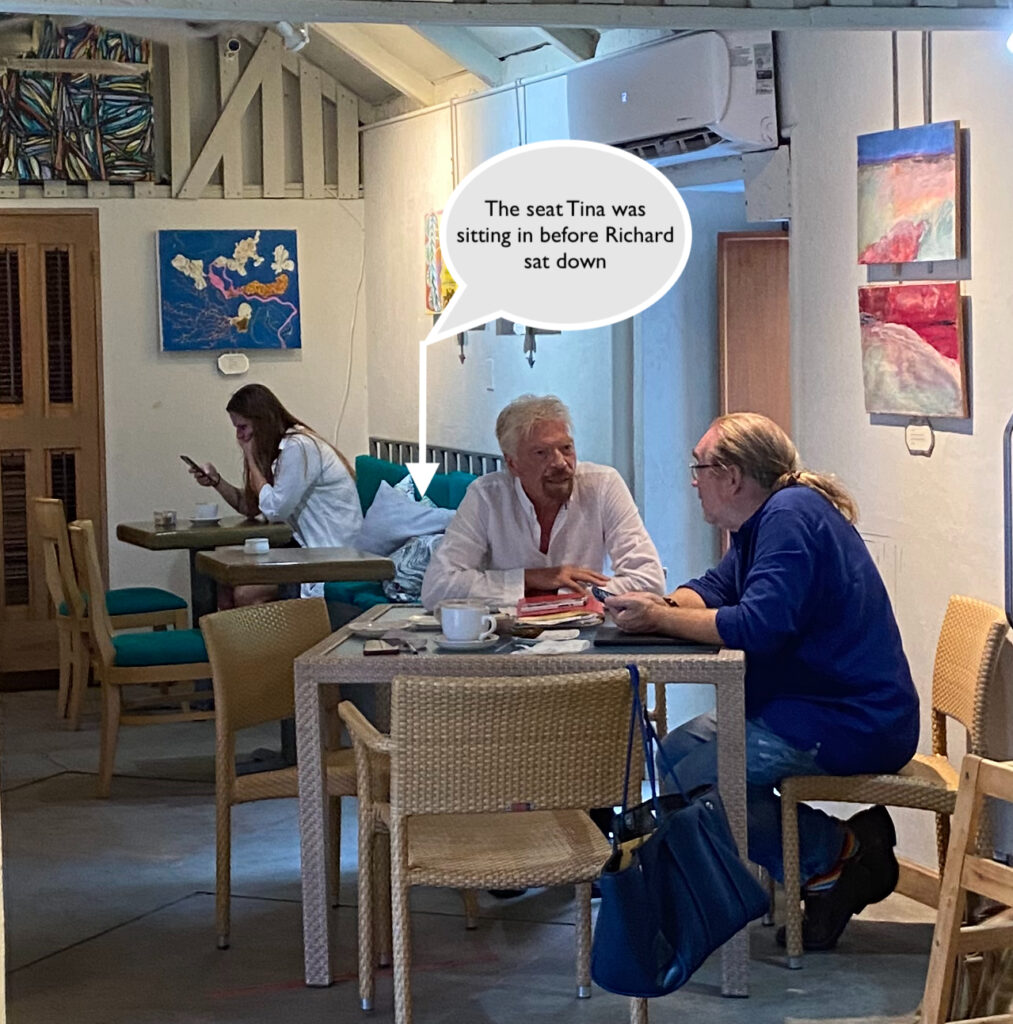 Day 4
Puerta Plata, Dominican Republic.
I had heard from various sources that the Dominican Republic could be abit sketchy, so I wasn't sure how far I would wander. Luckily, my new friends on the ship, Regina and Kim, had told me there was some kind of beach club right at the port.
They weren't wrong. About 100 metres from the gangplank there was a massive pool, surrounded by very comfy banana lounges that were actually free. This was like a Christmas miracle as nothing is free in these places.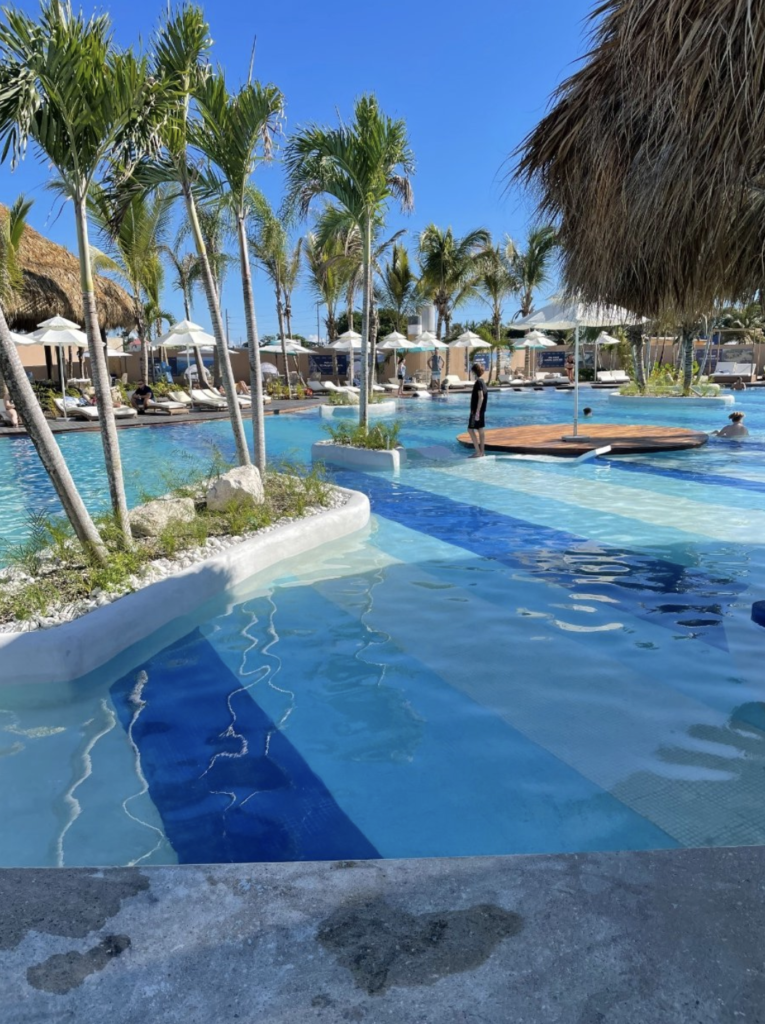 We spent a great day, lounging by the pool, drinking strawberry daiquiris. No one even asked to braid my hair once! I mean, come on, have you seen my hair? I would look like Leroy from Fame with braids, except heaps less cool.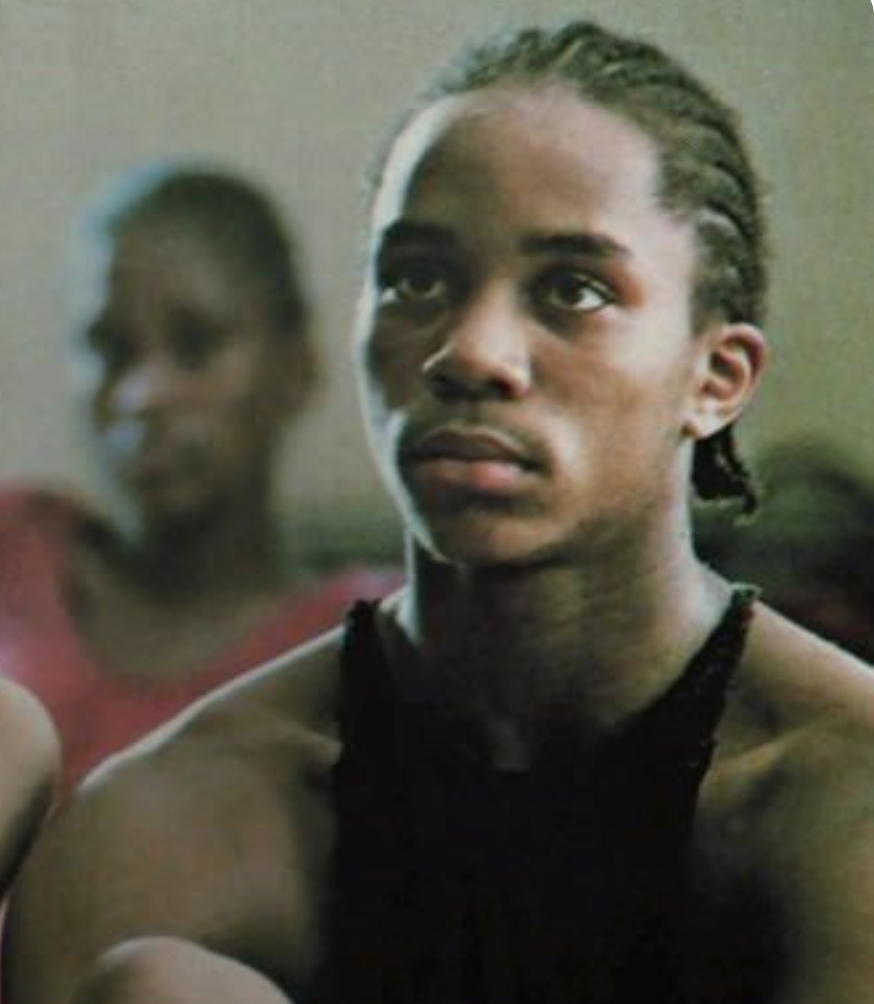 I tried to be last back on the ship, but some nice people (thanks Donnna and Rich) gave me a ride right up to the gangplank on their golf cart. I considered just standing there until 5.30, but the all you can eat buffet was calling me.
Summary:
I spent a total of 19 hours on actual Caribbean soil, out of 10 days cruising. Some people complained about that, but honestly, that's what cruising is. What I will say is, I enjoyed every place I went to and would definitely come back for a real holiday. These islands rely so much on tourism. My heart breaks for these beautiful people when I think of how hard the last two years must have been.
Oh yeah, and I may have promised to bring all my friends and family too – so pack your bags, people. And stay tuned for the next episode where I cover the other 220 hours of the cruise.