Views: 30
Read Time:
3 Minute, 8 Second
You know it's a sign when you're in the airport queue and you see someone you really, really like but haven't seen for 20 years.
Nearly 30 years ago I had the best job ever. I was part of the team that set up Police TV, an internal television network for the NSW Police. We used to travel all around the state producing stories with police about their jobs. From water police, to the riot quad to the one man police station in the Riverina, we saw it all. And the man behind the camera all those years ago just reappeared at Sydney Airport.
As I write this, I'm sitting in the Business Lounge waiting for Mark and his husband to clear security. I should mention that yesterday when Qantas said yes to my request for an upgrade using points, I literally jumped for joy. The only thing better than Business Class is (First Class) and unexpected Business Class.
******
The stars above indicate that once my long lost friends turned up at the Club, writing went out the window, replaced by Australian sparkling wine, a good pinot and 20 years' worth of catching up. Luckily they were flying to Europe or we probably would have been refused service before takeoff.
We said our goodbyes and I proceeded to the pointy end of my Boeing 787 Dreamliner, bound for LAX. Real champagne this time which is always the best way to start a 14 hour flight. The seat reclining buttons made absolutely no sense but eventually I half reclined and once dinner was over, went to sleep for eight hours on the flat bed. Anyone who knows me, knows this is a miracle as I don't sleep on planes even lying down.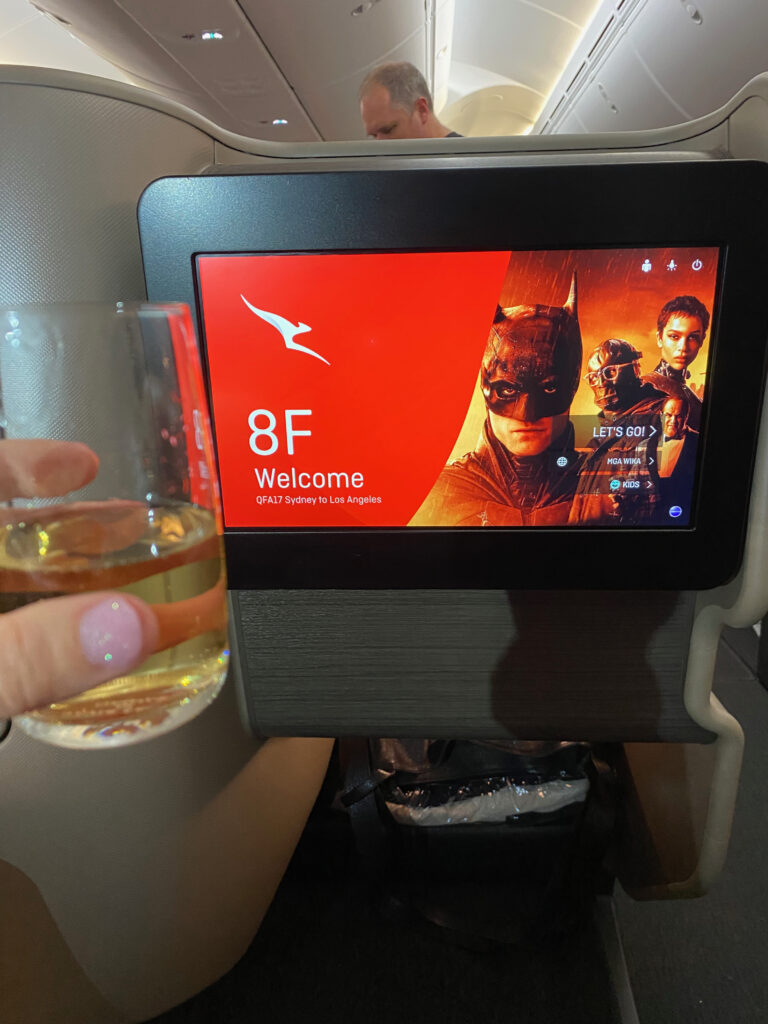 I woke up with three hours to go and finally discovered the seat had a massage chair. Thanks for telling me that Qantas. It's like when I bought an Audi A3 and the children told me a year later that there was a massage chair in my seat. WHAT? Bad, bad people for keeping these secrets from me.
I have no pictures to show you of the immigration queue at LAX, as you are not allowed to take photos in there. They say that is for security reasons, but it could also be that they would be smashed on twitter for how long it takes. I read half the Kitty Flanagan book that I lost last time I was at LAX, just while standing in the line. Eventually I made it to the Sonesta Airport Hotel and and after a quick swim, I headed to hotel bar for dinner. What I found was incredible. Well it was if you're from Australia.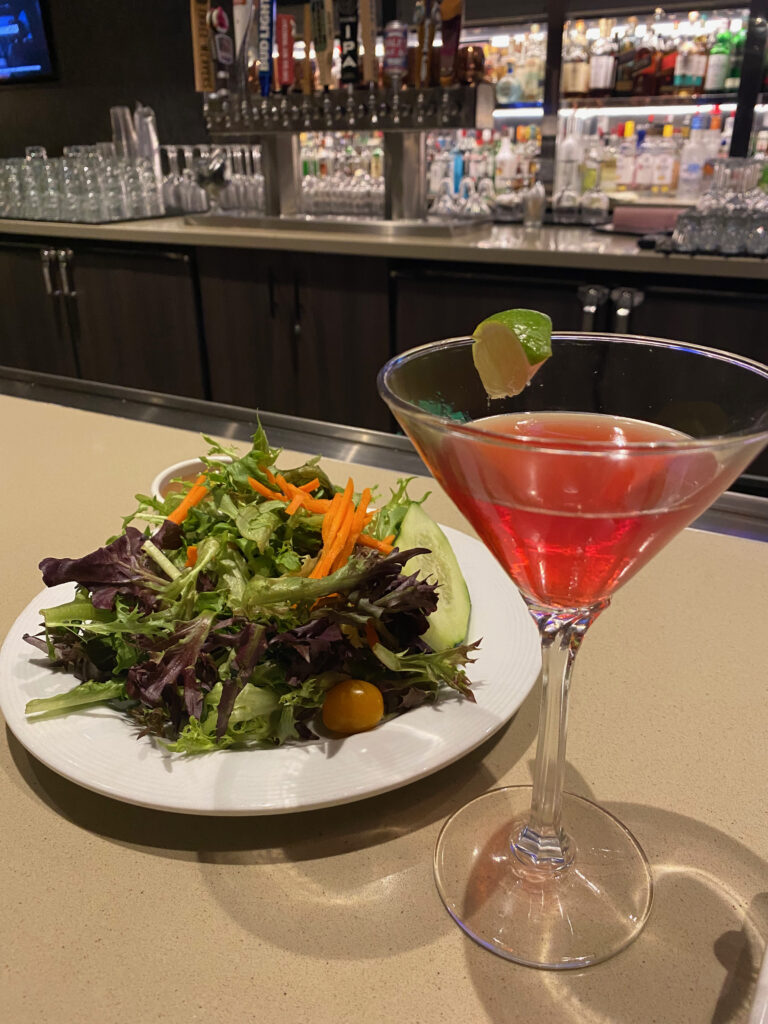 The weather on the east coast of Australia has been so bad all year that we have run out food. Literally. Supermarkets completely devoid of lettuce. One cauliflower costing $7. So when they gave me this salad with my burger, I had to eat the whole thing. For Australia. The cosmo was just a side dish.
If you think I sound like a crazy person, the sleeping on the plane thing massively backfired. I'm writing this at 4am from my hotel bed that I have to leave in an hour to catch my next flight to New York.
I'm excited to meet up with my BFR, remember the Best French Roommate, tonight in our local bar in mid town Manhattan. Yes, we even have the same local bar. It's going to be epic – probably not quite as many wine bottles at the end as French school but we will give it a go. Assuming I don't fall asleep at the bar and face plant into my dinner. Stay tuned.